This section describes how get the required import files from Meet Manager.
If you don't run MM yourself, print this section and pass it on to the MM operators.
Meet Manager Swim Export (Screen shots using MM 4.0)
What we require from MM
➢ A .EV3 file of Events
➢ An HTML file of Teams
In Meet Manager
Events
Using menu option:
Successfully saved the zip file

Viewed in Windows
The Swim export saves as a compressed zip file. The zip contains two files. We require the EV3 file.

The zip contents
Copy the EV3 file from the zip file for import to SportsTrak
Here's what it looks like in Notepad.

A sample Swim Export file
Teams
Use menu Schools > Export to HTML
Exporting Teams to HTML

Follow the prompts

The default file name is Team List.html but you can use any name
Open the file in a browser to check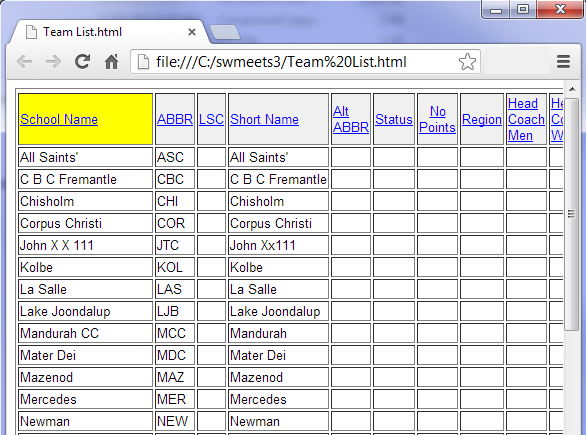 The resulting HTML file