Overview
Meet Manager (MM) is commonly used at higher level carnivals because of its integration in timing systems at both Swim and Track and Field venues. However it has not been designed in the context of hierarchical school carnivals that we in Australia usually run.
MM provides no straightforward way to import competitors from other providers' software. This is what we have aimed to provide in ST2200.
The MM - SportsTrak 2200 process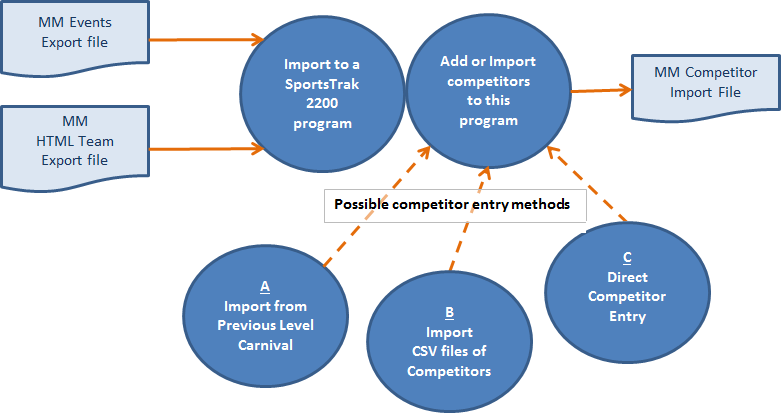 Overview of the MM process
Obtain the Export files from Meet manager
Swim described here
T & F described here
Create a SportsTrak version of the MM Program
A school coordinator familiar with SportsTrak can either
Send the MM import file to the MM operator
Swim described here
Track and Field described here
Things to be careful of...
Emergencies
Meet Manager cannot import 'spare competitors' for use in case some one doesn't show. The best way around this seems to be to have extra events on the Meet Manager program for each age group-gender that are clearly understood to be for an emergency list. Meet Manager does not allow arbitrary event names so the events must be actual event names such as 13Yr F 100m.
These dummy event must be present from the start in MM, so the export to SportsTrak creates them and allows coordinators to place their emergencies in.
Coming from Year Level Carnival
MM only does Age Based carnivals.
If you want to progress students from a SportsTrak Year Level carnival to a MM Age Group carnival you can using Wizard 5. But if you expect all Yr07 competitors to end up in 13Yr, all Yr08 to end up in 14Yr etc, it will not happen. Wizard 5 places students from the house carnival into the inter-school based on their age group, not year level.
Identical Events
SportsTrak's Wizard 5 will place competitors into the first event that matches. eg 13Yr F 100m competitors will be placed in the first event of that type in the MM program. So if the MM program has multiple events of the same Age/Gender/Event Type, the competitors will need manual editing before producing an export file.
Diving Events
Meet manager cannot import competitors for Diving from an SD3 import file. They must be given to the MM coordinator for direct entry.
Your Age Group format shouldn't be U/13 etc
The Meet Manager program uses age groups in the format 12Yr, 13Yr. If you have your own data in the other age format (U/13 etc.), go to Carnival Setup > Carnival Settings and change the format to 12Yr and your data will convert automatically.