Setting points for placings up to 30
Typical Set of Grades and Points
This window shows each grade of scoring. It uses Edit-In-Place. Double-Click any score to edit it.
Press <TAB> to accept a change and move to the next column.
Each Grade (eg A) may have a score system for either or both Individual and Team events. So each grade cannot have more than two lines.
The table scrolls horizontally to Place 30.
Points To
For individual events, scores usually go to both the team (house) and the individual, but you can over-ride that so that the points go to one or the other only.
Saving
Make sure you click Accept to save your changes.
---
For more than 30 places you may use Import/Export > Import/Export Score System
This sends the system to Excel, where you may edit and re-import.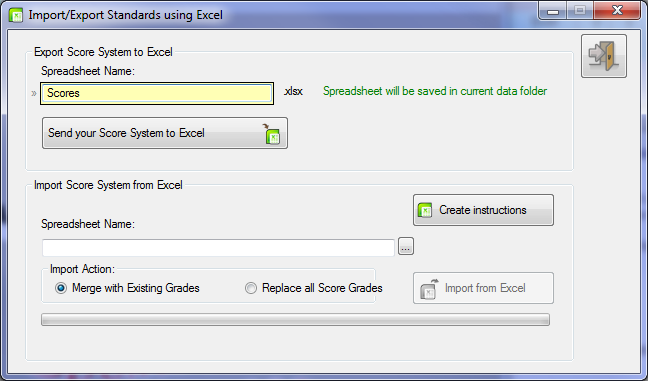 The Import/Export Score System window
We suggest that you Create Instructions first
You can then export your score system, edit it and re-import it.
---
If you don't have Excel and still need more than 30 places, go to Carnival Setup > Edit Grades and their Scoring Points
Place Points Table

In this image, we have an X grade for Cross-Country but it only goes to 30 places. It is graded so that Points = Place, but we want to go to 50th place.

Click the button Place/Points Generator

(See next window below)
Place/Points Generator

Choose the correct grade and the range of places. The Starting Points are the points for the Start Place shown.

Select whether you are increasing or decreasing and by what amount.

Then click Generate

After Generating up to 50th place
If your system changes by say 2 points for a range of places, then 1 point for another range, use the generator twice, once for each different increment (or decrement)