Editing a blank SchoolTeam.csv file
If you have received a SchoolTeam.csv file from your inter-school organiser, open it in Excel. It will look similar to this. Each event is represented with one or more lines. If it is one line per event, then one competitor is required per event. If 2 lines per event, 2 competitors may be added, etc.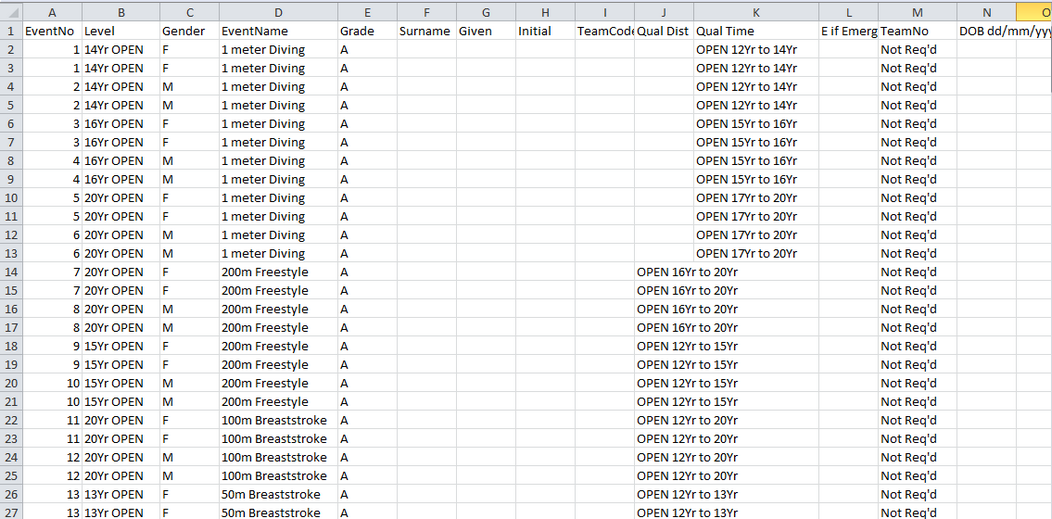 Sample SchoolTeam.CSV sent by IS Coordinator
Required data on each line
Surname, Given, Team Code
(if you don't know your Team Code, check with the inter-school organiser)
Optional
Middle initial (only used to distinguish 2 students with same name otherwise)
Qualifying Distance or Time (can be used to seed heats into V formation). Times are entered as MMSSHH always ending on the hundredths.
eg 22.75 Enter as 2275 ; 11.7 Enter as 1170 ; 1:05.7 Enter as 10570
Ignore
Col N - DoB (is calculated by SportsTrak approximately based on the event age for age group carnivals). However, if you do enter a DoB, it will be used by the import.
Example
SchoolTeam.csv filled in by direct entry
Notes on this example
Data must be entered for Columns F, G and I
Col H - add an initial only if two kids otherwise have the same name
Col L - if this competitor is an emergency, capital E
Cols J and K describe the age range that an OPEN age group covers.
Check your data
Where the same competitor is entered into several events, make sure their name is spelt the same in each case.
Saving your Spreadsheet
Go to File > Save As...
Save as...

Pay attention to which folder file is being saved into

Put your school's code in the file name

Save as type .csv
Click Save, and you will get this message...

Click Yes
When quitting Excel, you will get this prompt to save...

This is asking whether you want to save the file as an Excel .xls file.
Click Don't Save