SportsTrak is a computer program that manages sports carnivals. It can work with a single carnival at a time, keeping different carnivals in different folders.
The main SportsTrak folder (usually SportsTrak or SportsTrak2200) contains the actual program and support files. It should not be used for carnival data.
Carnival data folders can be anywhere on your system, but we strongly recommend that you keep all your working folders inside the main program folder as sub-folders.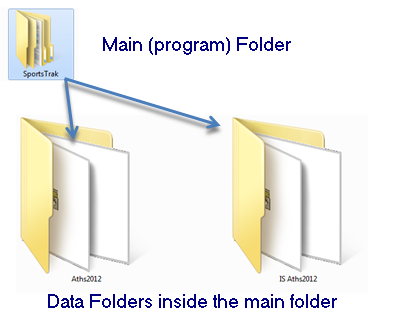 Give data folders simple names that include the year. eg Aths2014, ISSwim2015
When creating a new data folder, always copy an existing folder because it is far easier to modify existing data than to create data from scratch.
If you are setting up Aths2015, then it is simplest to make a copy of Aths2014 and then alter some dates.
If you have no data folders of your own yet, copy one of the Sample Data folders and rename it.