We suggest this method for a general Cross Country
Enter results in the order competitors cross the finish line.
This may mean that competitors queue up to recorders or their names are written down on a sheet as they cross the line. Times may be recorded at this point or you may have separately recorded times that need to be entered a bit later.
Record by Place if...

•you don't care about times

•you will put some in later

Choosing Place

Record by Result if you have the competitors' performances.

But make sure you enter them in Place order because SportsTrak will automatically assign the place and will process the results using Place.

After you have entered as many performances as you require for each age/level you may then switch to Place only for the rest of them.

Chossing Result

Your results will look something like this. (The times were entered only for the documentation)

The place is not age group specific. It is based on overall placing. Leave placings this way. Later processing sorts them into age group placings.

It doesn't matter whether the age groups or genders run different courses as long as the place is consistent within the age group.

Note that the table can be sorted on Place (as shown here). This prevents the Surname Locator working.

<SHIFT-CLICK> on Place to clear the sort order so that you can revert to locating by surname.

See here for Sort Orders

Entering some performances, then just place
---
Processing Results
Note that you can process multiple times. Each time you do it the process clears all competitors and results and works afresh from the massed results using your selected options.
Process By Place
To process by performance requires all competitors to have a performance entered. This is usually not done and even when it is is often not accurate.
Process by Overall Best
Overall Best would be the most commonly used option here.
However Best By House may be relevant to some situations. For example in an inter-school competition where schools provide say 5 runners at each age group and the best 3 are used to decide the team championship.
If the number to process is different per age group...
•process them separately
•print the specific level based reports
•repeating the processing with a different number.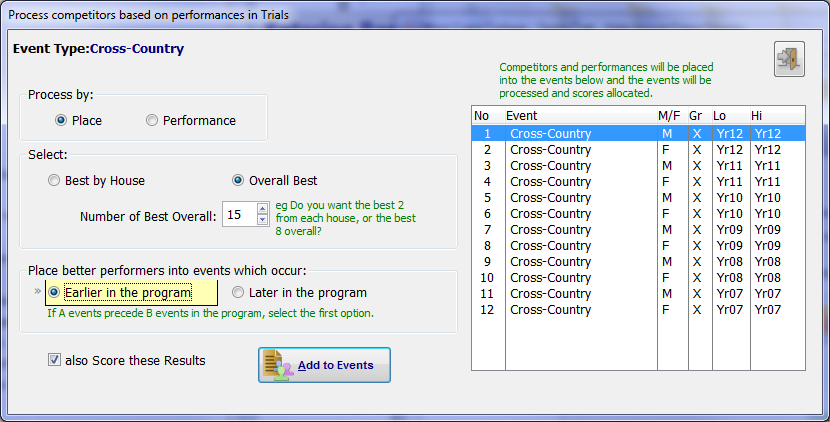 Processing Options Selected
Also Score these Results
This needs to be checked so that results are carried through to the listed events and scored.
After processing
Go to the Results Entry Window

All of the massed results have been sorted into each specific event as competitors and fully scored as results.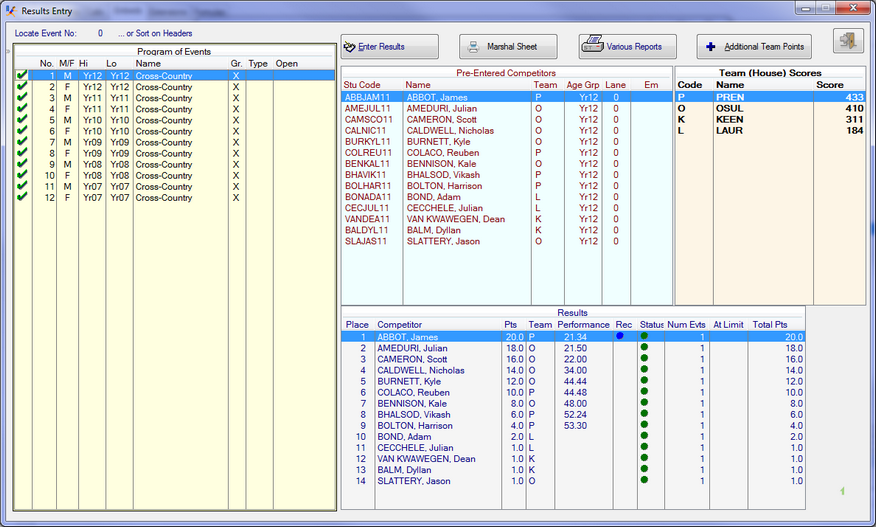 After Processing