After importing students and with the program of events entered, you are ready to pre-enter competitors into events.
Pre-entry of competitors into events allows:
➢ competitor listed programs to be printed
➢ easier results entry
Even partial pre-entry will help during results entry because some of the competitors may be listed and will not have to be looked up. Competitors who are listed but did not compete can be ignored.
See also Lanes
Recommended method
1. Print Entry Sheets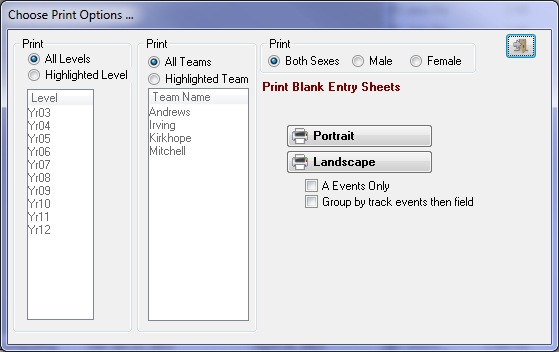 Choose what Levels and House to Print
An entry sheet is produced for each house, age group and gender. That is usually 4 x 6 x 2 = 48 sheets. If you don't want them all, this window allows you to narrow down the ones you get. Remember that they will print to screen so All levels and All teams is fine.
Here's a sheet for one Level and one House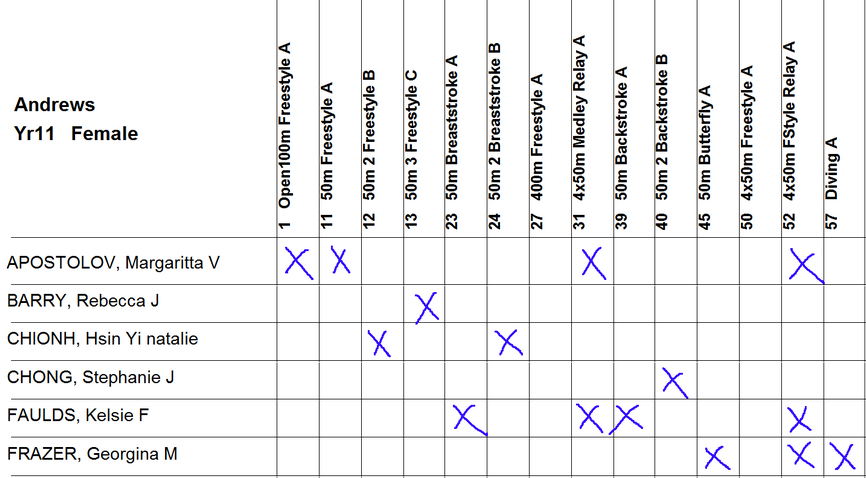 Marked Entry Sheet
2. Send sheets to house meetings to be filled like above
The blank entry sheets can be taken to house meetings for entrants to be marked as above.
The sheet then comes back to SportsTrak to enter the competitors from the sheets.
(continued next section)